SEE WHAT PEOPLE HAVE TO SAY ON ZILLOW
Experienced Award Winning Realtor
Mark has successfully closed over 1,400 transactions since 2005 and is considered a highly trusted real estate expert and top producer worldwide. In 2020, he was ranked and distinguished as one of the top 50 realtors worldwide for RE/MAX.
To date, he remains the top single realtor in the state of MN for RE/MAX. Mark has consistently been the top producer at RE/MAX for several years and is highly ranked for his expertise amongst agents worldwide! Experience is what separates him from the rest as he always puts the needs of each and every client first.
His commitment to client excellence has lead to many to depend on his market insight, diligence, communication and marketing strategy to get faster results. Marks expertise is vast and extends from traditional purchases and listings to luxury sales across the state of MN and WI. He also specializes in short sales, foreclosures, investor properties, rentals and any investments related to real estate including both residential and commercial properties.
If you are looking for someone that is extremely knowledgeable about the Minnesota/Wisconsin real estate market, then Mark is the realtor for you. He has successfully sold thousands of properties in all areas of the metro for over 15 years and offers a rare insight into the local market due to his extensive background in the industry.
Above all, Mark is dedicated to the success and satisfaction of each and every client that he partners with. This is shown by repeated recognition from his peers, as well as being one of the top 50 RE/MAX agents in the world for closed transactions in 2020.
As someone with experience in construction management, Mark is able to provide clients with a unique and thorough insight into many aspects of each home. His goal is always to guide all clients through the ever changing market conditions in order to make an informed decision on their future home or investment. His work ethic and desire to see everything through to a successful end, has allowed him to provide a high level of professional service to all his clients and become a top producing agent year after year. He is available 24/7 for your real estate needs! Let's start today. Whatever your housing goals, he's here to help. Work with the best in the business to achieve your real estate goals today.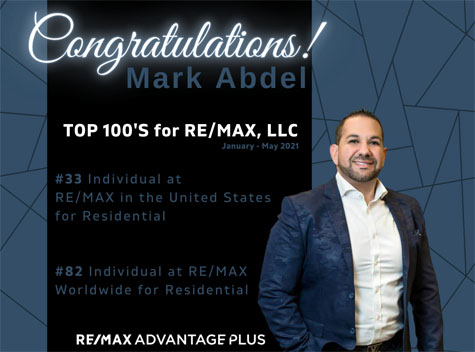 Call Mark at 651-283-8251 with any questions or a free consult.
Over 1,400 Homes Sold Since 2005
From 2012-2020, Mark Abdel was recognized for closing the most individual transactions and is considered a top single agent in the business and at RE/MAX Advantage Plus! He has been broadcasted many times on local news channels and has received many awards for his service and success.
Buyers & Sellers

Investment Properties

Short Sales

Foreclosures

Rehabbing Homes
St. Mary's Church

Alpha Course Graduate

MNREIA Investment Group Member

St. Jude's Children's Hospital Research Contributor

Childfund International Contributor

Susan G. Komen Contributor

Children's Miracle Network Contributor
From 2015 to present, Mark Abdel received one of the highest regional awards for sales in a single year, only 1% of RE/MAX associates in Minnesota and Wisconsin achieved the Diamond Level status. Over 1,400 homes sold since 2005!
University of Minnesota Graduate

Earned Doctorate of Pharmacy

Successful Realtor

Investor

Philanthropist