Awards
Over 1,400 Homes Sold Since 2005! Mark Abdel Top 1% of Sales in 2012-2020 for RE/MAX Associates in North Central Minnesota
2021, #75 Individual RE/MAX Agent in USA
Awarded #44 in World with REMAX
2019, 2020 (#21) Top 100 RE/MAX Agents in USA
2020 – #1 Agent in State of MN for Volume – Real Trends
2017 – 2020 #1 RE/MAX Minnesota Agent, Closed Transactions
2016-2020 #1 Individual RE/MAX Agent in Minnesota
2017 (#167th), 2018 (#186th), 2019 (#186th) & 2020 In Nation, Real Trends 'The Thousand Report'
Nominated the Top 40 RE/MAX Agents Under 40 for 2019
Top 1000 Agents in USA for Individual Sales – Wall Street Journal
Top 5 Agents in State of Minnesota for Individual Volume
2012 – 2020, Highest Individual Sales Volume
2012 – 2020, Most Individual Closed Transactions
2015 – 2020, Diamond Club Award Winner
2014 – 2020, Wall Street Journal-America's Best Real Estate Agents
2012, RE/MAX Hall of Fame Inductee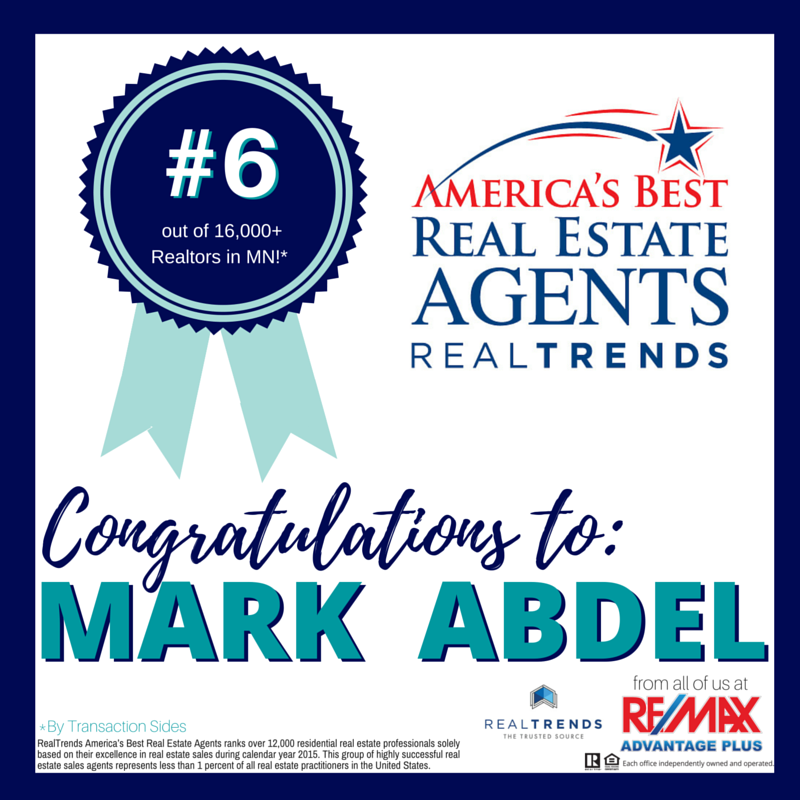 Testimonials
RE/MAX Advantage Plus & Mark Abdel Specialize in Creating Happy Clients. Here's What a Few Have to Say...

I cannot say enough good things about Mark Abdel. I feel sorry for those who have to deal with less experienced realtors. Being represented by Remax gave us a definite advantage!
Remax Advantage Plus was the most responsive agency I have ever dealt with. Phone calls were returned quickly by Mark and I never had to wait long for an answer. I never felt as if I was imposing when I had an urgent need or question that needed his expertise. Thanks Mark!
We were trying to sell our home for over a year. Our home sold within a month of switching to Remax Advantage Plus. We are grateful for the terrific service. Thanks Mark!
Mark is an awesome realtor! Thanks for treating us like superstars!
In uncertain times, it's nice to have someone to count on. Thanks Mark!
Mark Abdel is by far the most experienced and knowledgeable realtor I have ever met and is a true expert in the real estate market!